The Struggle is real.
Especially when it comes to my facial skin.
I'm thankful for the occasional days when it's clear and workable. Other days I'm a straight-up blotchy red, bumpy mess, especially during *ahem* that time of the month.
For years I've been on the hunt for investment-worthy products with positive long-term effects. Nothing crazy, complicated, or too expensive, but I'm looking for a consistent routine that'll help lessen my concerning areas and my common morning irritable eyebrow frowns (my frown lines can attest to that).
With combination skin, I guess you could say I'm pretty "lucky", since I'm not oily everywhere, but my t-zone can really be a nightmare. I've read numerous articles & reviews and tried a bunch of products, but I still have yet to find a routine that'll become my holy grail. In the meantime, though, let's talk about Lush.
Ooooooh Lush. You can basically smell the store itself from a mile away, it smells so heavenly! And it takes up the majority of my skincare routine right now. I was using Clinique for a long while before Lush came into my life, but realized its alcohol content was out of this world, so I wanted to switch to something more natural.
How do I feel about my decision to switch? Well, I have mixed feelings. I loved my Clinique stuff. LOVED.
With Lush, they have fantastic online reviews, super friendly store employees, and you can actually read and understand most of what's included in their ingredient lists. I can't necessarily say I'm obsessed, but I don't think I could do without them.
The products I've been using have all been recommended by every Lush sales associate I've had the pleasure of meeting, based on my skin type. Here's my experience: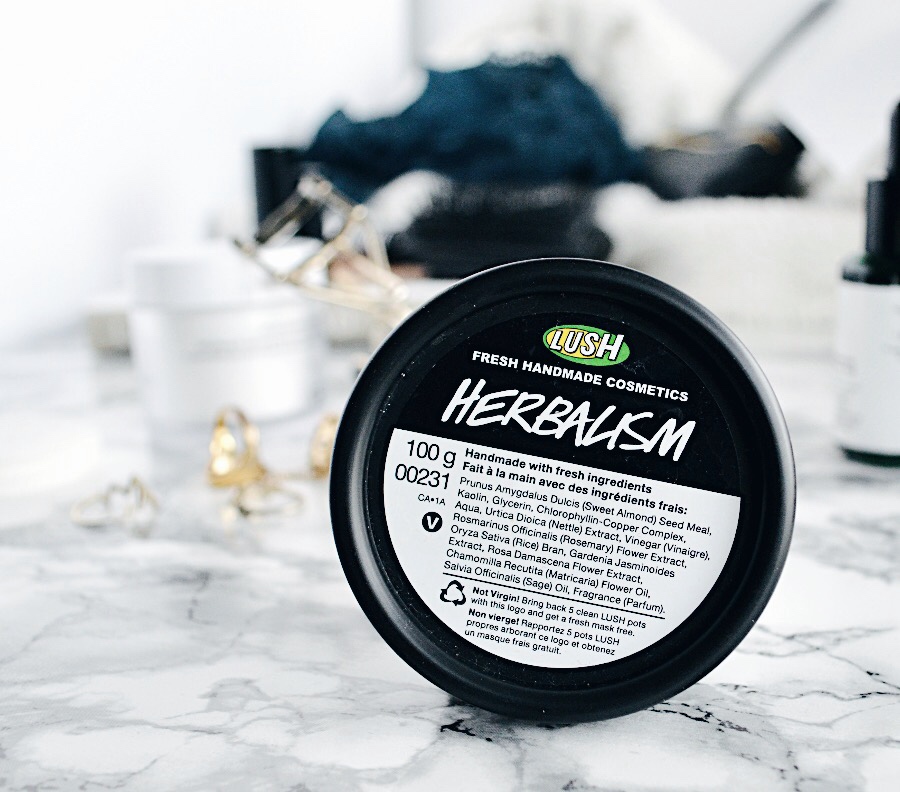 For a facial cleanser, I'm looking for something that deep cleans, but won't leave my face feeling tight and dry. This is the one and only Lush facial cleanser I've tried out, and I have to say, this definitely lives up to its standards. My forehead is the worst culprit for tiny breakouts, and within two weeks of using this, it significantly reduced. As an added plus, my skin feels soft and supple right after I use this – no tightening effect whatsoever!
I have to say though, the scent takes some getting-used-to as it does smell pretty, well, herbally. And it gets pretty messy – to use it, you need to rub it into your hand with a bit of water, and it gets all over the place when you wash it off. The cleansing effects definitely outweigh these issues, though.
Since I only use this in the mornings, I buy the small pot for $16 (it normally expires within about 3-4 months after purchase). It's a great product for fighting breakouts, and it'll likely stay in my skincare routine for a long time.

This was purchased on a whim, without even trying a sample of it, based on its raving online reviews and the fact that it's alcohol-free. I knew how great tea tree oil was for fighting acne and bacteria, and I felt like this would live up to the high expectations I already had (my Clinique toner was AMAZING on my t-zone).
So far, it's been pretty good – not amazing, but good. It keeps my oily skin at bay for more hours than if I didn't use a toner, but not as long as the Clinique one. Womp womp.
To be honest, I don't like the spritz feature on this thing because it literally feels like you're just spraying water onto your face. The plus side is you're not applying something that smells like a bottle of cheap vodka. I only started using it this past winter, so I can only imagine that this could bring some sort of a cool soothing effect when spraying it directly onto your face on a hot summer day. But right now, to feel like I'm getting more of an effect out of it, I pour it onto cotton pads and apply it like any other toner.
The smallest bottle goes for $11 (100ml); Clinique's smallest toner bottle goes for $19 (155ml). So it's about the same price for the amount you get, though you're saving a bit more if you go with the bigger 250ml bottle (Lush – $23, Clinque – $29).
 
Beautifully lavender scented, this product has some awesome reviews, and is supposed to cater to those with oilier skin, as it compensates by giving your skin that extra boost of moisture. As Lush says it, "if your face is oily, it's compensating for something". I'm still a bit skeptical about that fact, unfortunately. 🙁
It's light and airy, and absorbs quickly, which is great since I don't have to wait long to apply sunscreen over top. With this moisturizer, I find I don't need a lot of product to cover my whole face and neck, and it makes makeup application pretty easy, in that I'm not stuck dealing with flaking skin during colder months. Something I still struggled with while using the Clinique moisturizer. I know, oily AND flaky skin? How is that combo even possible?
I reaaaaally want to love this moisturizer, but even with all the pros mentioned above, my forehead doesn't seem to love it as my breakouts have been the worst it's ever been in a while since using this, even after consistent use of the Herbalism cleanser. I'll likely be on the hunt for a new moisturizer soon.
$50 for a pot of 45g – seems pretty pricey, but a tub should last you a good amount of months.
---
There you have it. At the end of the day, I'm happy with most of my Lush products as I continue on with my search for perfect skin. If you're experiencing combination skin, definitely give these products a try. Happy Lush hunting!