Okay guys, where did the long weekend go?! 3 day weekends always tend to fly by so damn quickly. Though I really shouldn't be complaining, since my current work schedule is compressed. So I almost always get a 3 day weekend!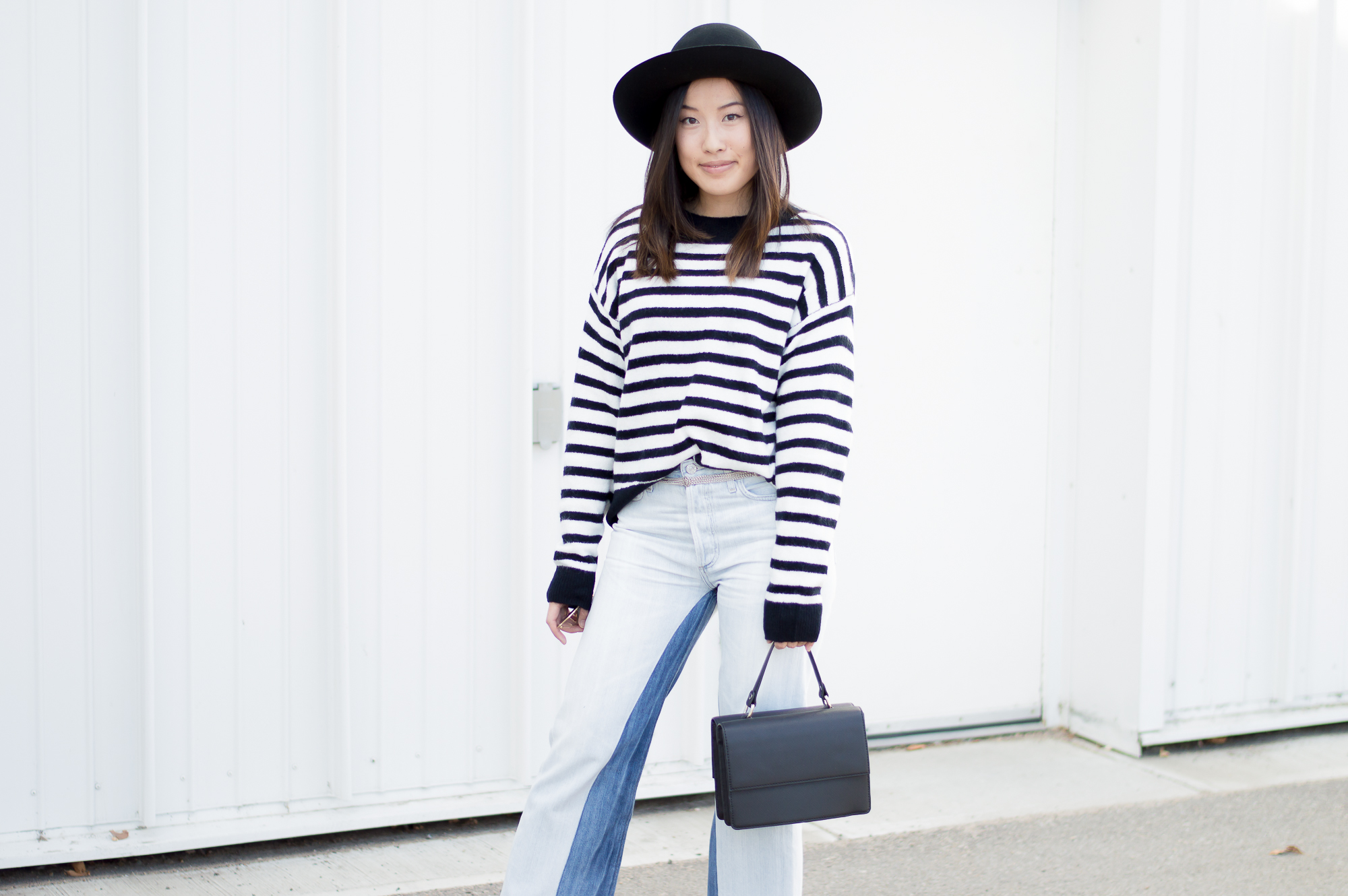 One of the highlights of my weekend was attending a childhood friend's birthday party. It's the coolest thing because ever since we were little, he would hold a birthday party at the end of September/beginning of October every year, and still continues to do so. It turns out to be quite the reunion!
It means so much now that we're older, since it gives us the opportunity to catch up with those who we grew up with, once a year. I love hearing about how well everyone's doing. Not to mention the fact that everyone has stayed such great friends, even after so many years. Although I've drifted with many of them, I feel like I just pick up right where I left off with them. It's seriously the best feeling in the world.
CASUAL WEEKEND WEAR INSPO
If you're looking for a casual, warm, and comfortable outfit for one of the upcoming weekends, yet still want to look like the stylish gal you know you are, look no further – I gotchu. Once again, putting together this look can be broken down into 3 basics: the top, the bottoms, and the accessories.
1. The Top
For a casual weekend out, opt for a fine-knit sweater, like this black & white one from H&M. It comes in a variety of colors and is one of my favorite closet items right now.
Why a fine knit sweater, you ask? Well, the fine-knit material is not too heavy — it's thin enough to wear under a jacket, yet thick enough to provide some warmth. It's the perfect sweater for a cooler day out. The dropped shoulder seam contributes to the over-sized look, which I obviously love.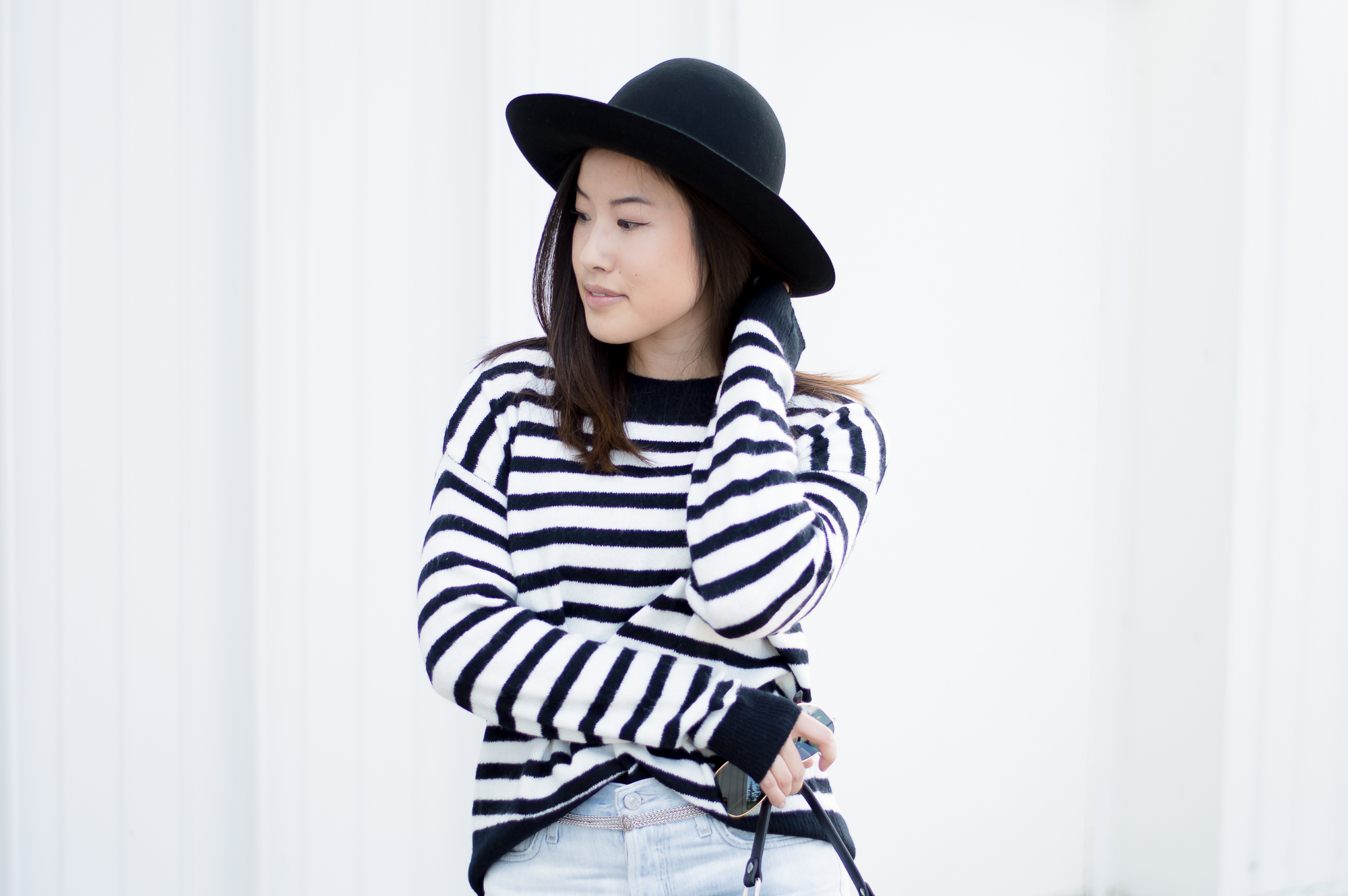 2. The Bottoms
What says casual wear more than a lovely pair of light-weight jeans? This pair by Citizens of Humanity have a unique panel going down the inseams, and features a wider leg fit. It completely fits true to size, so even if it's currently a final sale on the shopbop.com website, it's totally worth the buy!
The best part is the leg hem hits right above my ankle, proving it's still a great pair of wide leg jeans for petite women.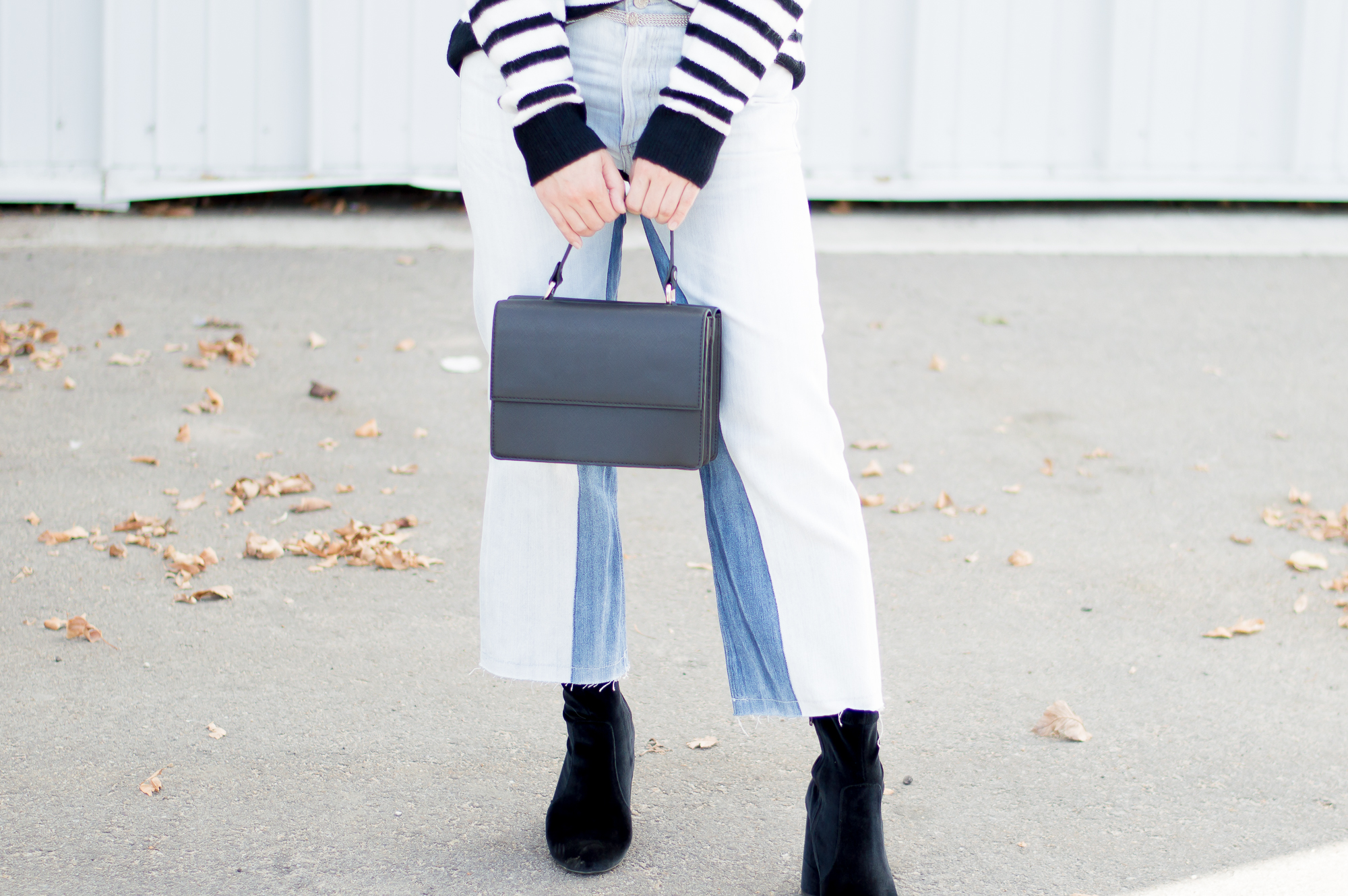 3. The Accesories
Last but certainly not least, incorporating a few unique accessories will always complete the look. Here I'm wearing a wide-brim bowler hat, one that I've been looking for for ages!! I found this one at the UO in the Miracle Mile Shops, on the Las Vegas strip. Throw it on when you're not really feelin' your hair that day, or when you just know it'll finish off your look.
Finally, I coped this lovely lady-bag from the Shopbop sale for 20% off. It's such a practical purse since it has compartments on both sides, providing double the storage, which is a plus for a smaller sized purse. When it comes to my clothes, I prefer an oversized, comfortable fit. Whereas with a purse, I like it more structured, and this particular one ticks off all the boxes. It's made of faux leather, but looks a lot more expensive than it really is.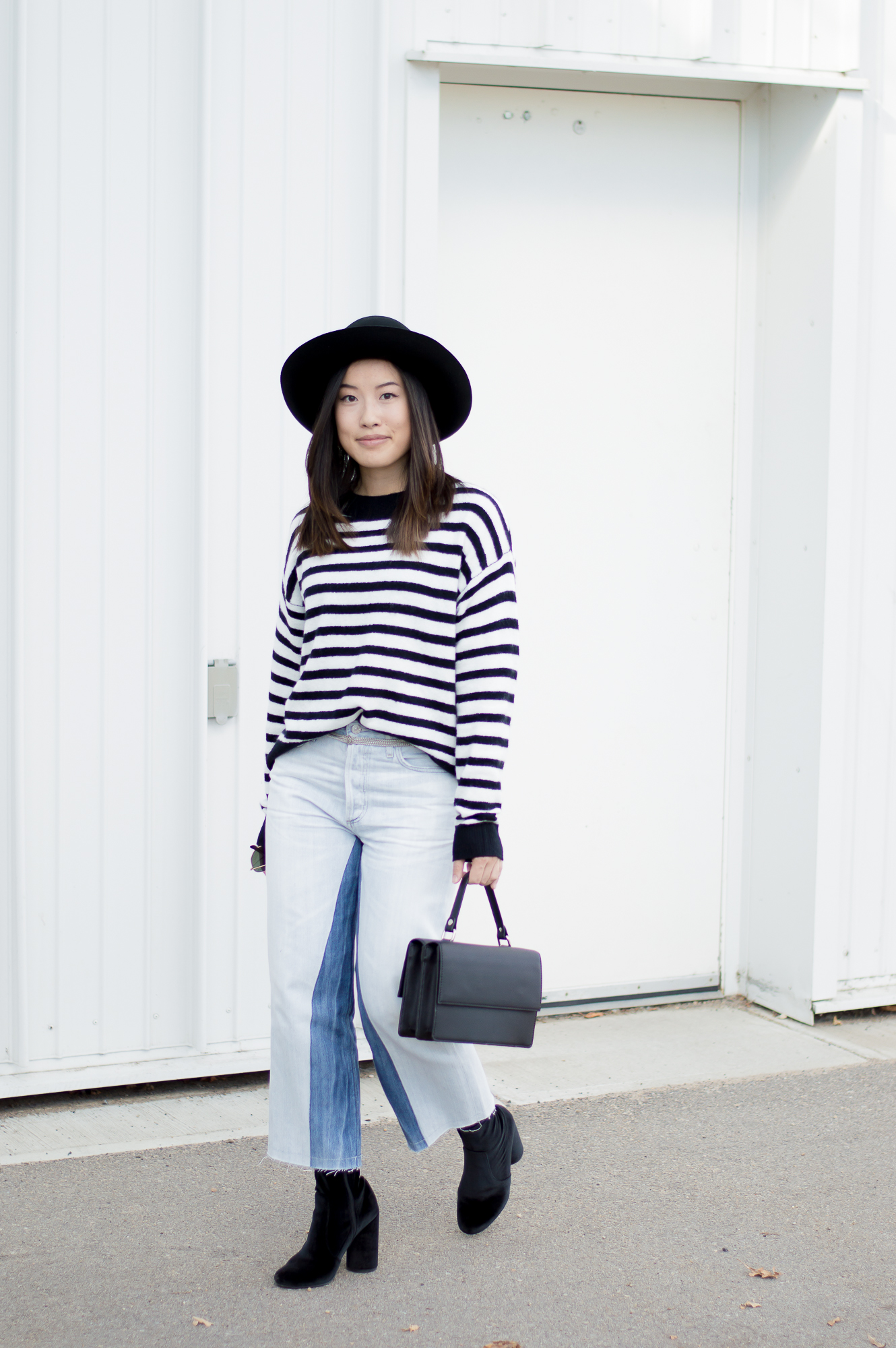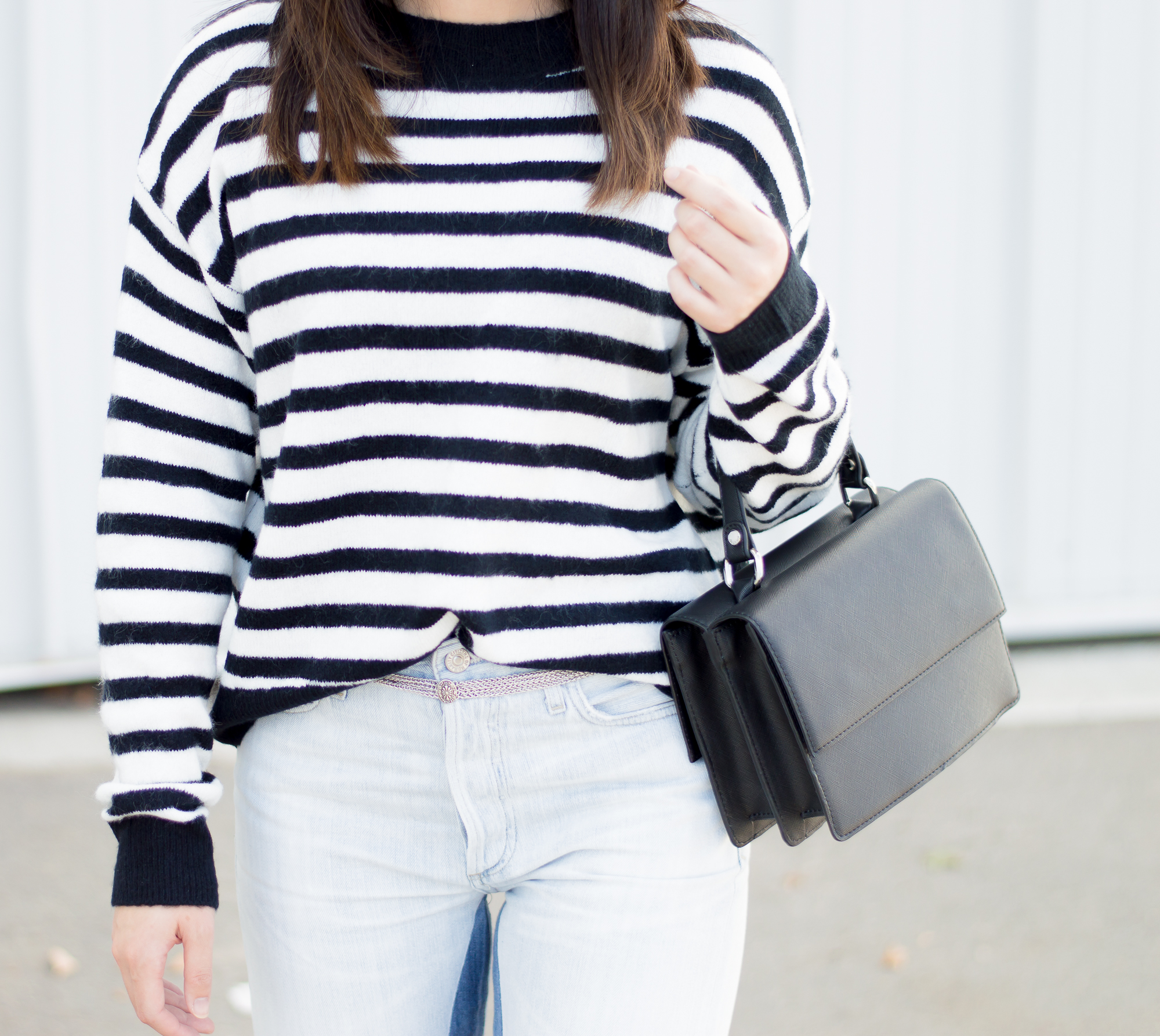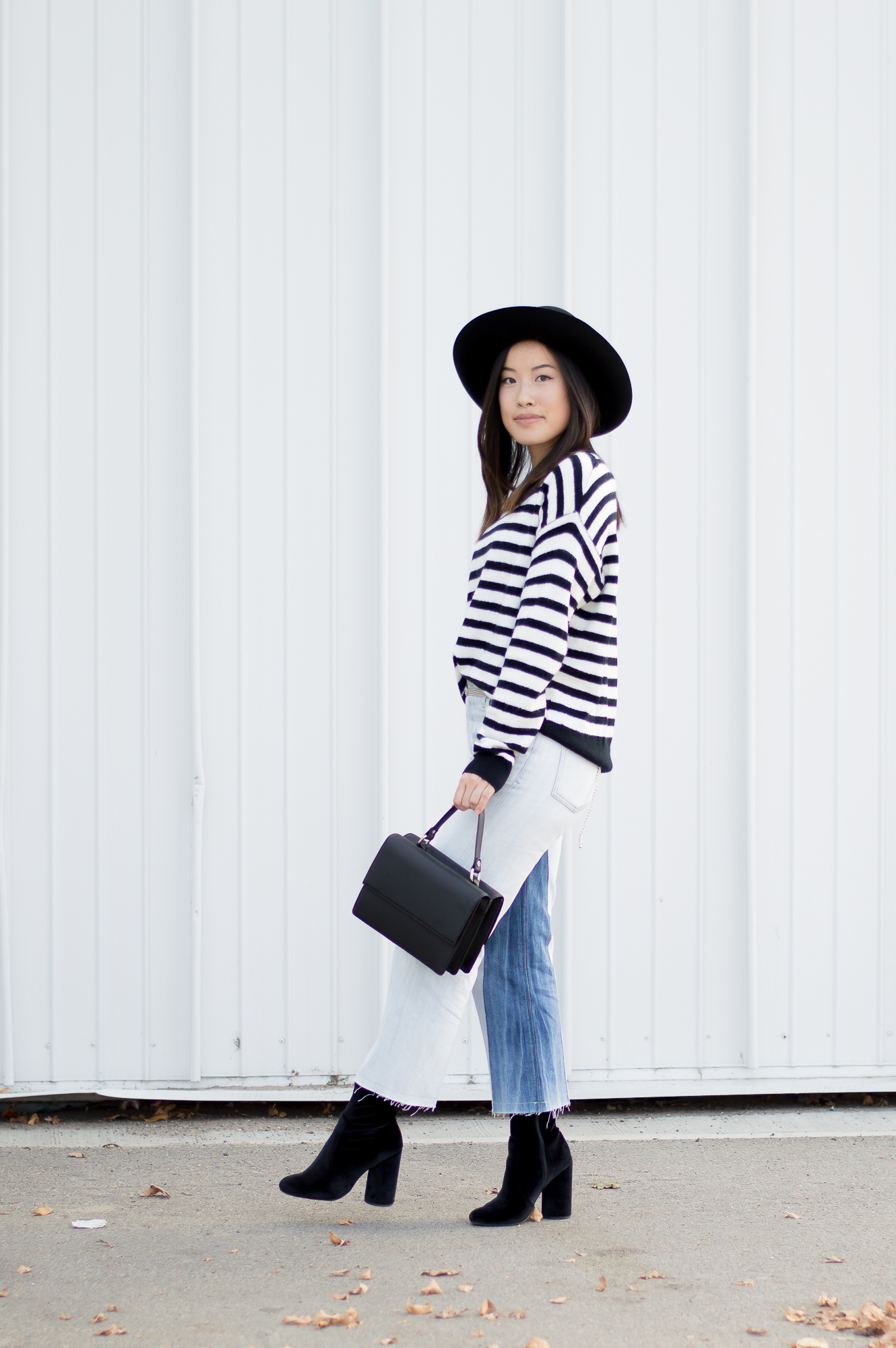 ---
SHOP THE LOOK